What is Binance Crypto Exchange?
Founded in 2017 by Changpeng Zhao (better known as 'CZ'), Binance is the world's largest cryptocurrency exchange by trading volume. Originally based in China, the company relocated when the Chinese government became hostile to cryptos. Although the exact company structure and location of Binance is opaque, with CZ repeatedly saying it doesn't have fixed offices, it seems the company is now officially registered in the Seychelles and Cayman Islands.
Binance enables users to easily buy and sell a wide variety of cryptos, and its user-friendly interface makes it popular with those new to the crypto space. Binance is a global exchange, but users from the United States are limited to using Binance US – a separate service based and regulated in the US and offering a significantly smaller choice of cryptos.
Binance also offers a wide range of trading services, however in this review, we'll focus on opening an account, completing the necessary onboarding steps, and buying and transferring cryptocurrency.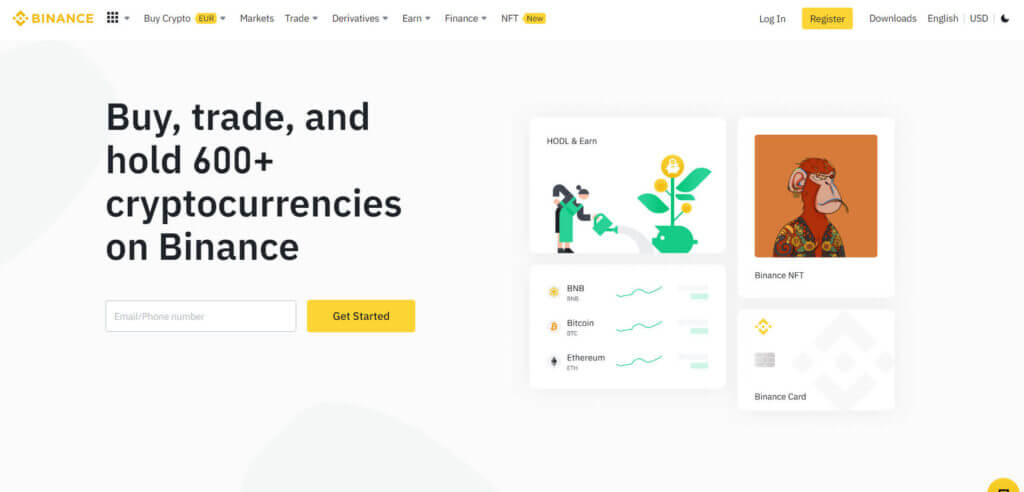 ---
Can Binance be Trusted?
Because Binance is the biggest crypto exchange in the world and is trusted by millions of users. CZ has gone to great lengths to assure people that, unlike some other exchanges, it does not try to leverage user funds and runs a sound business model based on generating revenue from fees. This means the exchange should have plenty of liquidity and always be able to honour withdrawal requests.
That said, we always recommend that you don't keep large amounts of cryptocurrency or other digital assets on any centralised exchange. Crypto of significant value should be transferred to a secure non-custodial wallet as soon as possible. You can learn more about the different wallet options available with our guides.
---
Is Binance Legal?
Crypto regulations vary by country and region and are constantly in flux. Binance currently offers services in over 180 countries and territories, but the specific options available in each one may vary. As mentioned previously, US residents can only legally use Binance US. If you are unsure of the legal status of crypto in your region, you should check with the appropriate authorities or a legal professional.
Countries and Regions Served
As of April 2022 Binance offered services in nearly two hundred countries and territories. Binance.com supported Visa and Mastercard payments from the following countries:
| | | |
| --- | --- | --- |
| Austria | Hungary | Portugal |
| Belgium | Iceland | Cyprus |
| Croatia | Ireland | Romania |
| Bulgaria | Italy | Russia |
| Croatia | Latvia | Slovakia |
| Czech Republic | Liechtenstein | Slovenia |
| Denmark | Lithuania | Spain |
| Estonia | Luxembourg | Sweden |
| Finland | Malta | United Kingdom |
| France | Netherlands | Ukraine |
| Germany | Norway | |
| Greece | Poland | |
Residents of the United States cannot use Binance.com, but can use Binance.us (except residents of Hawaii, New York, Texas, and Vermont).
Is Binance Secure?
Binance suffered a major security breach in May 2019, during which hackers stole 7,000 bitcoin (worth approximately US$40M at the time), but reimbursed all customer funds promptly. Since then, the company has gone to great lengths to improve security continuously.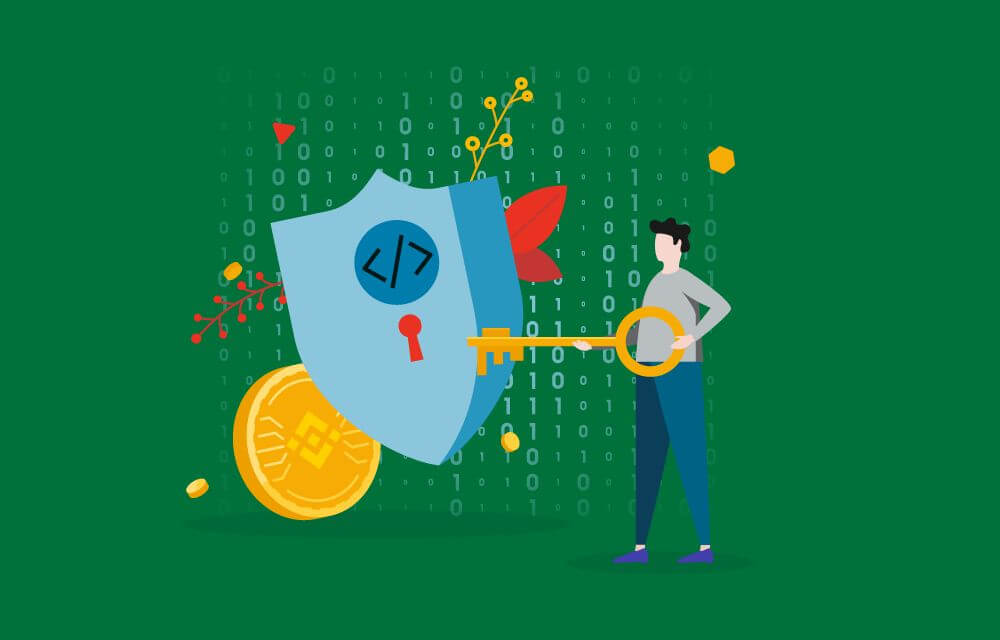 Specific security features available include 2FA (two-factor authentication), device management, and withdrawal address management.
Binance also provides a decentralised crypto wallet called Trust Wallet. This is a non-custodial wallet – meaning Binance does not have access to it, and the keys are solely in the hands of the user. We'll cover that in more detail in our wallets section.

Binance maintains a Secure Asset Fund for Users (SAFU) to ensure it can cover any potential losses from hacks and security breaches. By the end of January 2022, Binance claimed this fund was worth US$1 billion.
---
Creating an Account with Binance
Opening an account with Binance.com is straightforward and fast. Simply follow the steps below:
Go to Binance.com and select Register.
Select Sign up with phone or email.
Enter either your email or phone number, choose a password, and check the box to say you've read and agreed to Binance's Terms of Service and Privacy Policy. Then click Create Account.
You may then be asked about your intended usage of the platform. Select the relevant options and continue.
You will be asked to scan official photo identification using your computer or phone camera. Next, you will be asked to scan your face so that it can be biometrically matched to the photo ID. Follow the on-screen instructions.
You may be asked to upload certain documents, like recent bank statements, to confirm your identity.
Assuming you have the required documents ready, the entire sign-up process takes around five to ten minutes.

Binance offers two main account types: Personal and Entity. The default account type is Personal, enabling individuals to buy and sell cryptos and access personal trading services. Entity accounts are corporate accounts that offer extras like custody services, sub-accounts, a brokerage program, API floating, and reporting services.

How to Deposit at Binance
At Binance, you can make crypto purchases directly with Visa and Mastercard. Alternatively, you can add funds to your account and use that cash balance to make purchases. To deposit fiat, simply click 'Deposit' and then select your preferred currency and deposit method. Bank Transfers (SEPA) take 1-3 business days. Visa and Mastercard purchases and deposits at Binance are almost instant.
Supported Fiat Currencies
| Currency | SEPA Deposits | Visa / Mastercard Transactions |
| --- | --- | --- |
| Pound Sterling (GBP) | Yes | Yes |
| Turkish Lira (TRY) | Yes | Yes |
| Euro (EUR) | Yes | Yes |
| Kazakhstani Tenge (KZT) | Yes | Yes |
| Australian Dollar (AUD) | Yes | Yes |
| Brazilian Real (BRL) | Yes | Yes |
| Peruvian Sol (PEN) | Yes | Yes |
| Russian Ruble (RUB) | Yes | Yes |
| Ukraine Hryvnia (UAH) | Yes | Yes |
| Uganda Shilling (UGX) | Yes | Yes |
| Philippine Peso (PHP) | Yes | Yes |
| US Dollar (USD) | Yes | Yes |
| UAE Dirham (AED) | No | Yes |
| Azerbaijani Manat (AZN) | No | Yes |
| Bulgarian Leva (BGN) | No | Yes |
| Canadian Dollar (CAD) | No | Yes |
| Swiss Franc (CHF) | No | Yes |
| Chilean Peso (CLP) | No | Yes |
| Colombian Peso (COP) | No | Yes |
| Czech Koruny (CZK) | No | Yes |
| Danish Kroner (DKK) | No | Yes |
| Ghanaian Cedi (GHS) | No | Yes |
| Hong Kong Dollar (HKD) | No | Yes |
| Croatian Kuna (HRK) | No | Yes |
| Hungarian Forint (HUF) | No | Yes |
| Indonesian Rupiah (IDR) | No | Yes |
| Icelandic Kronur (ISK) | No | Yes |
| Japanese Yen (JPY) | No | Yes |
| Kenya Shilling (KES) | No | Yes |
| Mexican Peso (MXN) | No | Yes |
| Nigerian Naira (NGN) | No | Yes |
| New Zealand Dollar (NZD) | No | Yes |
| Polish Zlotych (PLN) | No | Yes |
| Romanian Lei (RON) | No | Yes |
| Saudi Riyal (SAR) | No | Yes |
| Swedish Kroner (SEK) | No | Yes |
| Thai Baht (THB) | No | Yes |
| New Taiwan Dollar (TWD) | No | Yes |
| Uruguay Peso (UYU) | No | Yes |
| Vietnamese Dong (VND) | No | Yes |
| South African Rand (ZAR) | No | Yes |
---
How to Buy Crypto at Binance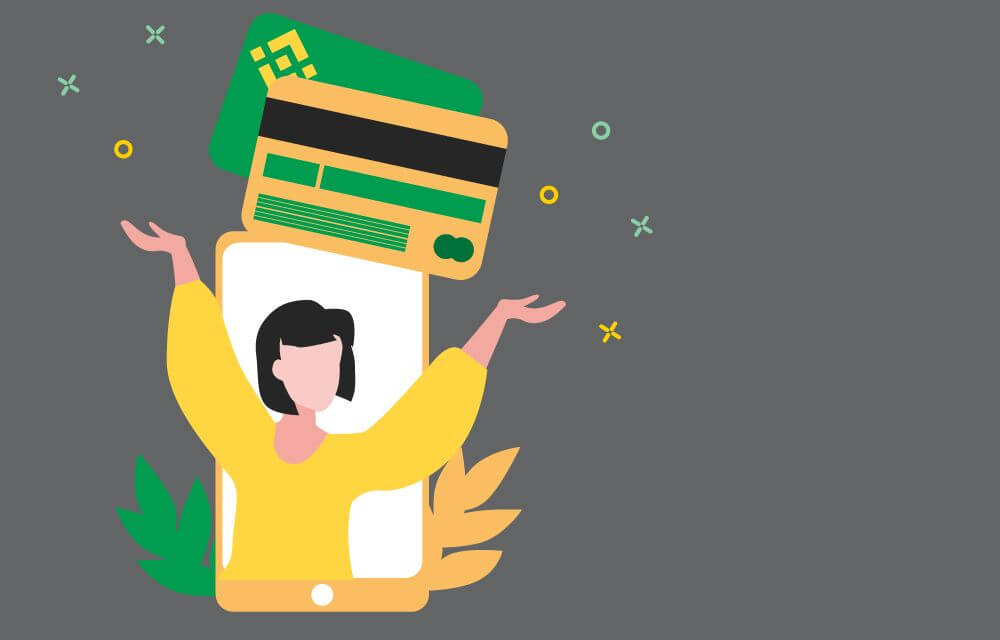 To buy crypto at Binance, simply select 'Buy Crypto.'
Next, you will be able to select the fiat currency you would like to use (euro, US dollar etc.), and how much you want to spend. Below that, you can select the specific cryptocurrency (bitcoin BTC, for example) you would like to purchase. The current exchange rate is shown above the fiat spend field.
On the next screen, you will be able to select Visa / Mastercard, or your cash balance to fund the transaction. Note that the transaction quote provided is time sensitive. If it expires, you will have to refresh to get a new one.
Once the transaction is completed, the crypto funds will appear in your Binance wallet.
Cryptos Available at Binance
Binance supports hundreds of different cryptocurrencies, including:
| | | | | |
| --- | --- | --- | --- | --- |
| Bitcoin (BTC) | Ethereum (ETH) | Tether (USDT) | USD Coin (USDC) | BNB (BNB) |
| Binance USD (BUSD) | XRP (XRP) | Cardanao (ADA) | Solana (SOL) | Dogecoin (DOGE |
| Dai (DAI) | Polkadot (DOT) | TRON (TRX) | Shiba Inu (SHIB) | Avalanche (AVAX) |
| Polygon (MATIC) | UNUS SED LEO (LEO) | Wrapped Bitcoin (WBTC) | Uniswap (UNI) | Litecoin (LTC) |
| FTX Token (FTT) | Cronos (CRO) | Chainlink (LINK) | Stellar Lumens (XLM) | NEAR Protocol (NEAR) |
| Cosmos (ATOM) | Monero (XMR) | Algorand (ALGO) | Ethereum Classic (ETC) | Bitcoin Cash (BCH) |
| Internet Computer (ICP) | VeChain (VET) | Flow (FLOW) | Dencentraland (MANA) | The Sandbox (SAND) |
| Tezos (XTZ) | ApeCoin (APE) | Hedera (HBAR) | TrueUSD (TUSD) | Filecoin (FIL) |
| Elrond (EGLD) | Theta Network (THETA) | Axie Infinity (AXS) | Aave (AAVE) | Helium (HNT) |
| QUANT (QNT) | Bitcoin SV (BSV) | Pax Dollar (USDP) | EOS (EOS) | KuCoin Token (KCS) |
| Maker (MKR) | Zcash (ZEC) | BitTorrent (BTT) | Neutrino USD (USDN) | OKB (OKB) |
| IOTA (MIOTA) | eCash (XEC) | USDD (USDD) | THORChain (RUNE) | Huobi Token (HT) |
| Klaytn (KLAY) | The Graph (GRT) | Fantom (FTM) | Chiliz (CHZ) | Neo (NEO) |
| PAX Gold (PAXG) | Basic Attention Token (BAT) | Curve DAO Token (CRV) | Waves (WAVES) | STEPN (GMT) |
| Stacks (STX) | Loopring (LRC) | Zilliqa (ZIL) | Dash (DASH) | PancakeSwap (CAKE) |
| Enjin Coin (ENJ) | Fei USD (FEI) | Arweave (AR) | Kusama (KSM) | Convex Finance (CVX) |
| Mina (MINA) | Celo (CELO) | Amp (AMP) | Kava (KAVA) | TerraClassicUSD (USTC) |
| Compound (COMP) | NEM (XEM) | Nexo (NEXO) | Holo (HOT) | XDC Network (XDC) |
| Gala (GALA) | 1inch Network (1INCH) | Decred (DCR) | GateToken (GT) | Synthetic (SNX) |
| CEEK VR (CEEK) | Gnosis (GNO) | Symbol (XYM) | Kadena (KDA) | Qtum (QTUM |
---
How to Transfer Crypto from Binance to Another Wallet Address
Transferring crypto from your Binance wallet to another wallet is relatively simple. First, ensure the receiving wallet accepts the cryptocurrency you want to deposit. We'll imagine we're sending bitcoin (BTC) in this example.
Find the unique crypto wallet address you want to send the BTC to and copy it to your clipboard. For example, if you are making a BTC deposit to a casino or gaming platform, open your account and go to deposit options, then select the BTC option. You should find a deposit address.
Log-in to your Binance account and open your Wallet Overview. You should see your current estimated balance and asset types.
Select Withdraw and Withdraw Crypto.
You will now see the crypto withdrawal page. Select the coin type, and paste the destination wallet address into the 'address' field. The network should be automatically matched to the wallet (if it is not, then you must select a compatible network. Failure to do so can result in loss of funds). Finally, enter your withdrawal amount and confirm.
Before the withdrawal request is confirmed, you may need to answer some security questions and will need to complete any activated 2FA steps (e.g. phone, email and authenticator).
Your withdrawal will now be processed.
Once the withdrawal has cleared, the bitcoin (BTC) will arrive in the destination wallet. The speed of the transaction will depend on the specific crypto used, network congestion, and if Binance chooses to hold it for review. For more information on transaction speeds, check out our crypto guides.
---
How to Transfer Crypto to Binance and Withdraw it as Cash
You can easily transfer crypto funds from another wallet (for example a casino or gaming platform account) to your Binance account. Simply go to the appropriate wallet/account you want to withdraw from, and enter your Binance wallet's address. Specify how much you would like to withdraw. Carefully double-check the details before confirming.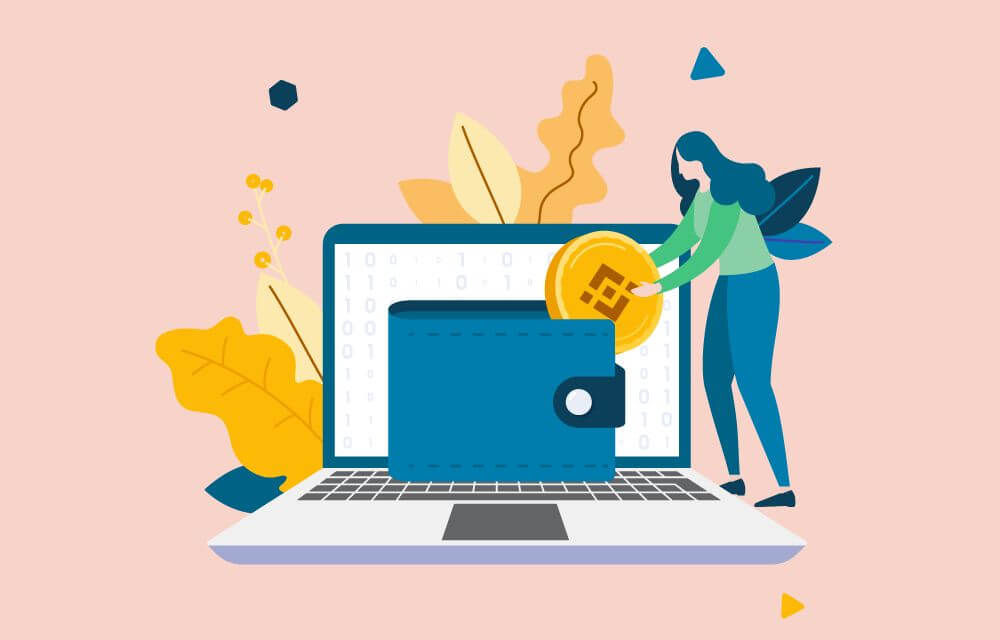 If you want to make a fiat currency withdrawal from your Binance account to your bank account, you'll need to convert your crypto to fiat. Just follow these steps:
Select Sell Crypto, then choose how much of which crypto you want to sell and which fiat currency you would like to receive. Then select Continue and follow the prompts to complete the sale.
Navigate to your Binance wallet and select Overview. Select Withdraw, then Withdraw Fiat.
Choose the appropriate currency from the list.
Select either Bank Transfer (SEPA) or Bank Card (Visa), then hit Continue.
Complete the required security and authentication steps.
Binance Transaction Fees
Crypto buying/trading fees: 0.1%
Crypto withdrawal/transfer fees

Depends on the crypto and network used. Bitcoin network fee: 0.0000056 – 0.00022 BTC

Fiat withdrawal fees

Bank Transfer (SEPA): 1 EUR
Bank Card (Visa): 1.8%
---
Binance Customer Support
Binance Support is available from the main navigation menu and includes a comprehensive Help Centre. This offers searchable FAQs and several self-service tools allowing users to reset passwords, unlock accounts, and reset security verification.
A Live Chat facility also enables you to efficiently direct an inquiry and open a support ticket. Response time varies depending on how busy the site is and the complexity of the inquiry, but we found it to be within a few hours as a rule.
Binance.com is available in several languages, including:
English
Indonesian
Spanish
French
Filipino
Italian
Polish
Portuguese
Romanian
Swedish
Slovak
Slovene
Vietnamese
Turkish
Latvian
Czech
Greek
Russian
Ukrainian
Bulgarian
Arabic
Urdu
Bengali
Japanese
Simplified Chinese
Traditional Chinese
---
Final Word on Binance
All things considered, Binance.com is pretty hard to beat. The sheer choice of cryptos on offer is vast – everything from the biggest cryptos like bitcoin and ether to the most obscure new tokens. Though fees are very competitive, as with all crypto, specific fees are highly dependent on individual blockchain networks.
Binance also excels when it comes to accessibility and user experience. With so many languages and fiat currencies supported, you'll find it easy to use unless you live in the United States or a handful of other restricted territories (like Ontario, Canada).
Despite being easily accessible, Binance hasn't cut corners regarding security. In fact, if anything, security can seem frustratingly thorough at times! For example, a simple crypto transfer can need three authentication codes. However, individual users are given a lot of flexibility to fine-tune security settings. Rounding things off, Binance provides in-depth self-service support resources and fairly responsive live chat support.
At the end of the day, there are good reasons Binance has become the most popular cryptocurrency exchange in the world, and we can highly recommend it.
Frequently asked questions
Yes. Binance offers cryptocurrency exchange services to people resident in the United Kingdom. 
Nope. The fixed fees for crypto purchases and fiat withdrawals are extremely low. Crypto transfers and withdrawals depend on the specific coin and blockchain network.
Yes. Since launching, Binance has earned a reputation as one of the most trustworthy and stable crypto exchanges. Even when the exchange did suffer a major hack, it quickly reimbursed all affected users. Financially, it is one of the best funded and resourced exchanges. 
As Binance founder and CEO, Changpeng Zhao, has pointed out several times, the company relies on many remote teams worldwide. Technically, the company has registered bases in the Cayman Islands and Seychelles.