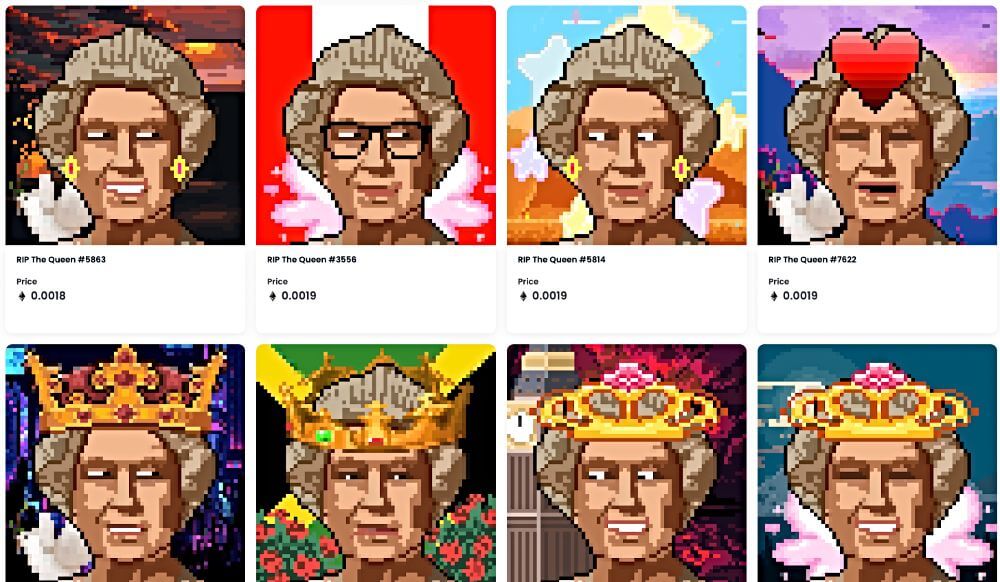 Yesterday, Thursday 8th September, 2022, Queen Elizabeth II, Britain's longest serving monarch passed away peacefully at Balmoral Castle, Scotland. But, as the United Kingdom of Great Britain and Northern Ireland, and the Commonwealth of Nations, began their mourning, several uncouth developers launched NFTs to capitalise on the loss. 
Sick Pump and Dumps
Illustrating just how quickly the crypto and NFT worlds move, within hours more than 30 tokens including Queen Elizabeth Inu, London Bridge is Down, Rip Queen Elizabeth, Save the Queen, Queen, Queen Elizabeth the Great, Queen Elizabeth Commemorative Token, and QueenDoge were launched on decentralised exchanges on Ethereum and the Binance Smart Chain (BSC).
Given the general outpouring of grief worldwide over the death of Queen Elizabeth II, which even saw Russian President Vladimir Putin send a message of condolence, the opportunistic launch of so many tokens doesn't seem to have gone down well with the vast majority of the global crypto community.
It also seems likely that most of those jumping on the bandwagon will get burnt, and become victims of 'pump and dump' schemes. Indeed, According to Dex Screener, the Queen Elizabeth Inu token gained over 28,000% within 12 hours of launch, but saw less than $400K in trading volume, while the Elizabeth token gained over 8,400%, and a bigger trading volume of $2.7M.
NFT vultures waiting for deaths
But the award for worst taste definitely goes to the RIP Queen Elizabeth project on NFT marketplace OpenSea. The creator has posted a collection of 520 garishly bad 'artistic' images of her majesty – all of which are more than a little sinister. Again, however, the collection seems to have fallen flat.
Perhaps most disturbingly, the fact that the RIP Queen Elizabeth project consists of 520 NFTs strongly suggests the creator had already made the artwork and was waiting for the Queen's death to launch the collection. Likewise, another NFT collection on OpenSea, called RIP The Queen Official, has a staggering 8,200 crappy pixel artworks of the Queen, in an attempt to exploit her death.
So, how many more NFT creators are waiting impatiently for a person to die to try and make a quick buck? Maybe OpenSea should introduce some new policies.