What is Coinbase Crypto Exchange?
Coinbase was founded back in 2012 by Brian Armstrong – a former engineer with Airbnb. It attracted significant funding in later 2013, enabling it to expand rapidly. Within a year, Coinbase had signed up a million users and in 2015 expanded beyond the US to Canada and Singapore. Notably, Coinbase was the first crypto exchange to receive regulatory approval in the United States.
Today, Coinbase serves over 98 million users in over 100 countries and employs nearly 5,000 people – most of whom operate remotely. Interestingly, it has no corporate headquarters but is still officially based in the US, and in April 2021 became a public company on the Nasdaq exchange.
We took Coinbase for a thorough test drive, and in this review, we'll explain how to open an account, buy crypto, transfer it to another wallet, and make withdrawals.

---
Can Coinbase be Trusted?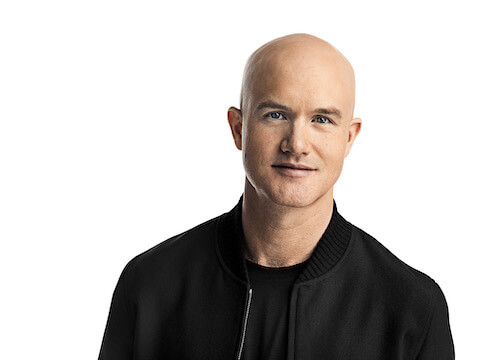 Because it is based in the United States, Coinbase has to comply with the highest regulatory standards. As a company, it has an excellent reputation and track record, and is trusted by millions of users.
However, we always recommend that you avoid keeping a large amount of crypto on any centralised exchange. It is safer to keep valuable crypto assets on secure non-custodial wallets (there is a stand-alone, non-custodial Coinbase wallet available). You can find out more about wallets in our handy guide.
---
Is Coinbase Legal?
Again, because it is based in the United States and regulated by federal authorities, Coinbase is legal for most Americans and international residents. However, services may be limited for residents of certain US states. If you are unsure of the legality of buying and trading crypto in your country or region, we recommend you check with the appropriate authorities or consult a professional.
Countries and Regions Served
As of July 2022, coinbase.com offered crypto buying and / or exchange services to residents in the following countries and territories:
| | | |
| --- | --- | --- |
| AFRICA | ASIA | EUROPE |
| Angola | Bahrain | Andorra |
| Benin | Brunei | Armenia |
| Botswana | Hong Kong | Belgium |
| Cameroon | India | Bulgaria |
| Ghana | Indonesia | Croatia |
| Kenya | Japan | Cyprus |
| Mauritius | Jordan | Czech Republic |
| Namibia | Kazakhstan | Denmark |
| Rwanda | Kuwait | Estonia |
| South Africa | Kyrgyzstan | Finland |
| Tunisia | Macao | France |
| Uganda | Maldives | Germany |
| Zambia | Mongolia | Gibraltar |
| NORTH AMERICA | Nepal | Greece |
| Aruba | Oman | Guernsey |
| Bahamas | Philippines | Hungary |
| Barbados | Singapore | Iceland |
| Bermuda | Taiwan | Ireland |
| Canda | Uzbekistan | Isle of Man |
| Costa Rica | OCEANIA | Italy |
| Curacao | New Zealand | Jersey |
| Dominican Republic | SOUTH AMERICA | Latvia |
| El Salvador | Argentina | Liechtenstein |
| Guatemala | Brazil | Lithuania |
| Honduras | Chile | Luxembourg |
| Jamaica | Colombia | Malta |
| Mexico | Ecuador | Monaco |
| Nicaragua | Paraguay | Montenegro |
| Panama | Peru | Norway |
| Trinidad and Tobago | Uruguay | Poland |
| United States | | Portugal |
| Virgin Islands, British | | Romania |
| | | San Marino |
| | | Serbia |
| | | Slovakia |
| | | Slovenia |
| | | Spain |
| | | Sweden |
| | | Switzerland |
| | | Turkey |
| | | United Kingdom |
Is Coinbase Secure?
Coinbase has a very good reputation regarding security. As with any online exchange, it is impossible to guarantee a site is totally secure, but Coinbase has demonstrated its commitment to customers security.
For example, in October 2001, a sophisticated phishing attack enabled hackers to steal crypto from at least 6,000 Coinbase users. However, the exchange rapidly secured the accounts, refunded all customers, and further enhanced security measures. The Coinbase security team has also notably thwarted several other extremely sophisticated hacking attempts.
---
Creating an Account with Coinbase
Opening an account with coinbase.com is easy, though you do need patience for the verification processes – just follow the steps below:
Go to coinbase.com and select Sign Up.
Enter your email, select a strong password, and set your country of residence.
Complete the personal information form and submit it.
You will need to verify your email address.
As directed, upload a recent bank statement, credit card statement, or utility bill to verify your address. Verification can take a while – you'll be emailed when it's completed.
Follow the instructions to take / upload a picture of your driving licence, passport, or official ID card. Verification can be slow – you'll get an email when it's done.
Sign-in and answer the short questions about employment etc.
To complete account set-up, you will need to add bank card details.
Each stage of the process takes just a few minutes, but you may have to wait for several hours for each verification process.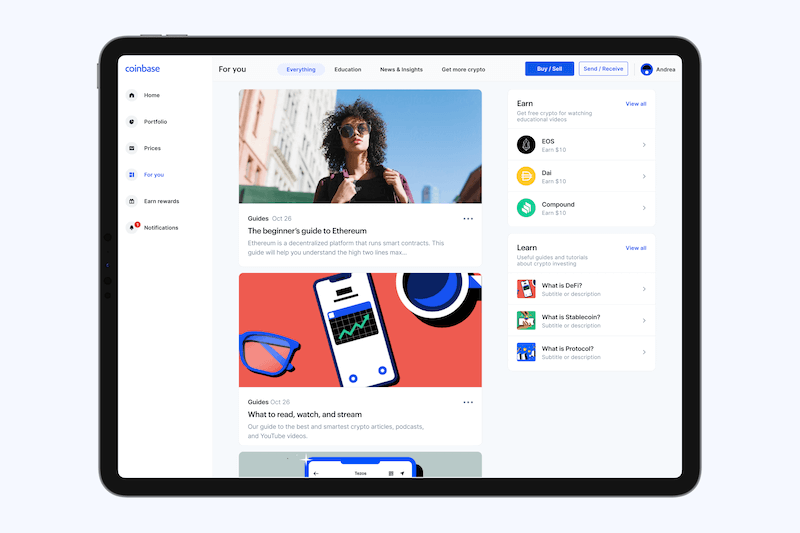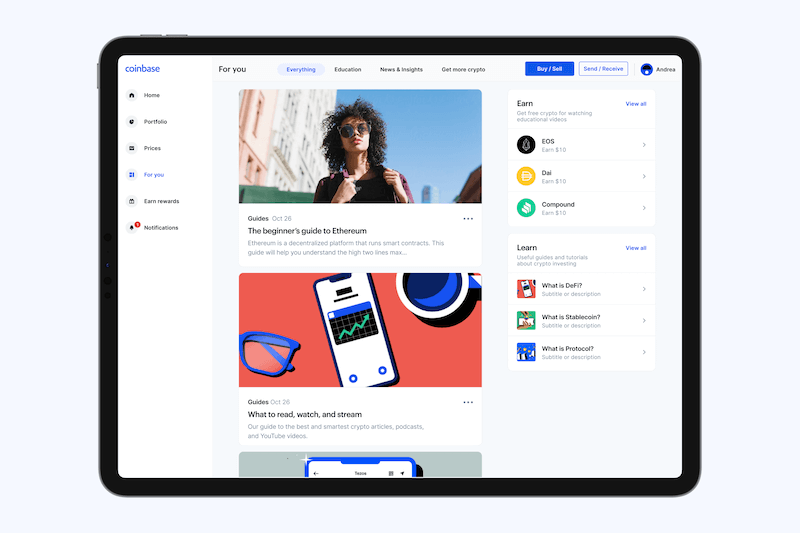 How to Deposit at Coinbase
At Coinbase you can either add funds to your account using a bank account that supports SEPA, or make one-time purchases using your Visa or Mastercard.
To deposit fiat funds to your account, select Deposit Funds. All the details you need to make a SEPA bank transfer will be provided (Reference Number, IBAN, Bank Name, Address, SWIFT/BIC etc). Use the copy function next to each field to ensure you don't make a mistake when setting up your payment. Bank transfers can take up to 3 business days to clear and arrive in your Coinbase account.
Supported Fiat Currencies
Euro (EUR)
Pound Sterling (GBP)
US Dollars (USD)
---
How to Buy Crypto at Coinbase
To buy crypto at Coinbase, just select 'Buy Crypto.' Next, select which cryptocurrency you would like to buy, for example, bitcoin (BTC) or ether (ETH), and how much. You can choose a one-time purchase, or set a regular daily, weekly, bi-monthly, or monthly transaction.
Finally, choose which payment method you would like to use (Visa / Mastercard, or account balance). Review your order, confirm it, and complete any security verifications. Your crypto will be added to your account balance.
Cryptos Available at Coinbase
Coinbase supports thousands of crypto assets, including:
| | | | | |
| --- | --- | --- | --- | --- |
| Bitcoin (BTC) | Ethereum (ETH) | Ethereum 2(ETH2) | Tether (USDT) | USD Coin (USDC) |
| BNB (BNB) | Binance USD (BUSD) | XRP (XRP) | Cardano (ADA) | Solana (SOL) |
| Dogecoin (DOGE) | Dai (DAI) | Polkadot (DOT) | TRON (TRX) | SHIBA INU (SHIB) |
| Avalanche (AVAX) | Polygon (MATIC) | UNUS SED LEO (LEO) | Wrapped Bitcoin (WBTC) | Uniswap (UNI) |
| Litecoin (LTC) | FTX Token (FTT) | Crypto.com Coin (CRO) | Chainlink (LINK) | Stellar Lumens (XLM) |
| NEAR Protocol (NEAR) | Cosmos (ATOM) | Monero (XMR) | Algorand (ALGO) | Ethereum Classic (ETH) |
| Bitcoin Cash (BCH) | Internet Computer (ICP) | VeChain (VET) | Decentraland (MANA) | The Sandbox (SAND) |
| Tezos (XTZ) | ApeCoin (APE) | Hedera (HBAR) | TrueUSD (TUSD) | Filecoin (FIL) |
| Elrond (EGLD) | Theta Network (THETA) | Axie Infinity (AXS) | Aave (AAVE) | Helium (HNT) |
| Quant (QNT) | Bitcoin SV (BSV) | Paxos Standard (PAX) | EOS (EOS) | KuCoin Token (KCS) |
| Maker (MKR) | Zcash (ZEC) | BitTorrent (BTT) | Neutrino USD (USDN) | OKB (OKB) |
| IOTA (MIOTA) | eCash (XEC) | USDD (USDD) | THORChain (RUNE) | Huobi Token (HT) |
| Klaytn (KLAY) | The Graph (GRT) | Fantom (FTM) | Chiliz (CHZ) | Neo (NEO) |
| PAX Gold (PAXG) | Basic Attention Token (BAT) | Curve DAO Token (CRV) | STEPN (GMT) | Waves (WAVES) |
| Stacks (STX) | Loopring (LRC) | Zillliqa (ZIL) | Dash (DASH) | PancakeSwap (CAKE) |
| Enjin Coin (ENJ) | Fei USD (FEI) | Arweave (AR) | Kusama (KSM) | Convex Finance (CVX) |
| Mina (MINA) | Celo (CGLD) | Amp (AMP) | TerraClassicUSD (UST) | Kava (KAVA) |
| Compound (COMP) | NEM (XEM) | Holo (HOT) | Nexo (NEXO) | XDC Network (XDC) |
| Gala (GALA) | 1inch (1INCH) | Decred (DCR) | GateToken (GT) | Synthetic Network Token (SNX) |
| CEEK VR (CEEK) | Gnosis (GNO) | Symbol (XYM) | Kadena (KDA) | Qtum (QTUM) |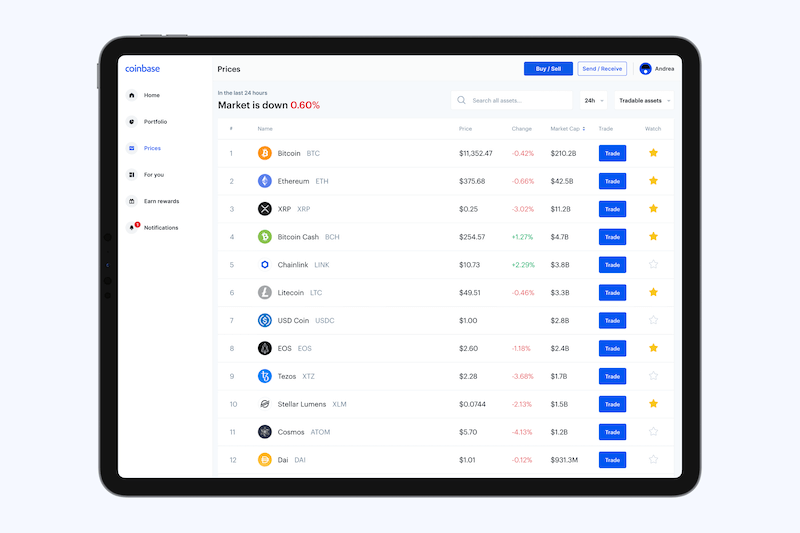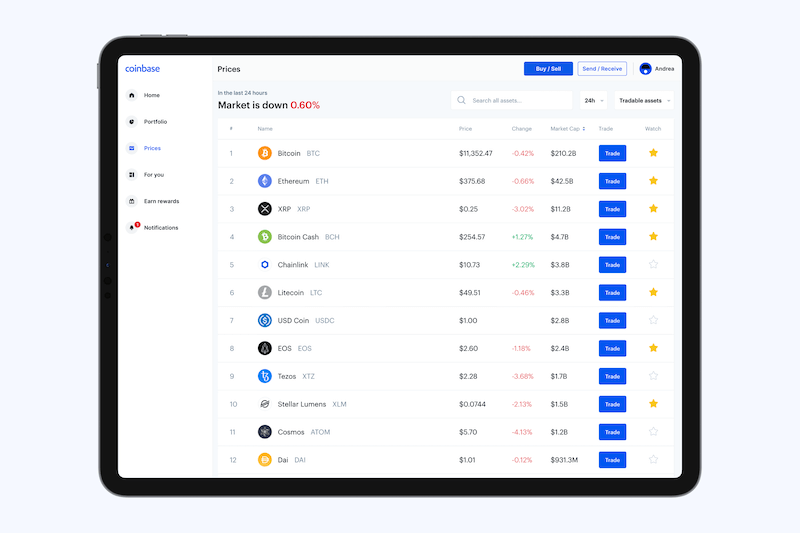 ---
How to Transfer Crypto from Coinbase to Another Wallet
So, you've got some crypto in your Coinbase wallet and you want to transfer it, for example, to a non-custodial wallet, to make a payment, or deposit at a casino or gaming platform? Follow these steps:
Find the unique crypto wallet destination address. Copy it to your clipboard.
Log in to your Coinbase account and click Send.
Enter the amount and type of crypto you would like to send, and then paste the destination wallet address into the 'To' field.
Make sure to add the appropriate tag or note if needed (not all cryptos require these).
Ensure you select the appropriate network if it hasn't been auto selected.
Carefully review the transaction, double checking the address, and confirm.
Complete any security verification steps.
The transaction speed will depend on the type of crypto you are using, network congestion, and if Coinbase conducts security checks. For more information on crypto transaction speeds and fees, check out our crypto guides.
---
How to Transfer Crypto to Coinbase and Withdraw it as Cash
To transfer crypto from another wallet (or casino account etc.) to your Coinbase wallet:
Find your Coinbase wallet address for the appropriate crypto type (Bitcoin, Ethereum etc), and copy it.
Next, log in to your other wallet (or casino or gaming platform account etc), select the appropriate crypto balance, and select send/withdraw/transfer.
Paste your Coinbase wallet address into the destination/to field, select how much you want to transfer. Add the appropriate note or tag, if required.
Select the appropriate network, if required.
Carefully review the details and then confirm the transaction.
Again, the speed and fees for the transaction will depend on the specific crypto and network congestion.
If you'd like to withdraw funds from your Coinbase account to your bank or card, you'll first need to convert crypto into fiat.
Log-in to your Coinbase account and select Sell.
Now, select the transaction's cryptocurrency, amount, and fiat currency. Follow the prompts, and complete any verification steps.
Your fiat currency from the crypto sale will appear in your account balance. You can now withdraw fiat funds from your account to your bank or card. Select the appropriate options and follow the prompts.
Note that withdrawals to bank accounts can take several business days to complete.
Coinbase Transaction Fees
Coinbase charges a flat 1% fee on all crypto transactions.
Fees to transfer cryptos from Coinbase vary depending on network and congestion – the specific fee quote is clearly provided for each transaction.
Cash deposit fees:

ACH – Free
Wire (USD) – $10 USD
SEPA (EUR) – €0.15 EUR
Swift (GBP) – Free

Cash withdrawal fees:

ACH – Free
Wire (USD) – $25 USD
SEPA (EUR) – €0.15 EUR
Swift (GBP) – £1 GBP
---
Coinbase Customer Support
Support is accessible by clicking Help on your profile menu (under your avatar/photo). A range of guides and useful articles are available, covering everything from buying, selling and using crypto to the coinbase wallet and NFTs.
If you can't find what you're looking for, scroll down and you can select Contact Us. You can either message via live chat, or phone (US, UK, Irish, and Indian phone numbers are provided). Support is responsive and professional and seems able to solve most issues quickly.
Coinbase.com is available in several languages, including:
---
Final Word on Coinbase
Coinbase is a good choice for those new to crypto, looking to easily and securely acquire crypto – especially if you're based in the US or UK. It has a good selection of cryptocurrencies (though not as many as Binance) and even offers a stand-alone wallet.
The only real downsides to Coinbase are its clunky, slow onboarding process (each verification step can take a while), and relatively high fees. If we're being picky, we'd also say the design of the Coinbase site is less intuitive than Binance or Kraken.
All things considered, Coinbase is one of the safest choices for crypto casino players, and it's probably worth opening an account, even if you already have accounts with other exchanges.
Frequently asked questions
Coinbase has no physical headquarters, but is based and listed in the USA. 
Coinbase fees can be relatively high, but this very much depends on what kind of transactions you make - for example, how you deposit and withdraw cash.
In order to make withdrawals, you'll need to have completed all required identity verification procedures, and provided valid bank or card details.